21/11/22
Carping Pirates – Canal Adventure – Mike Holly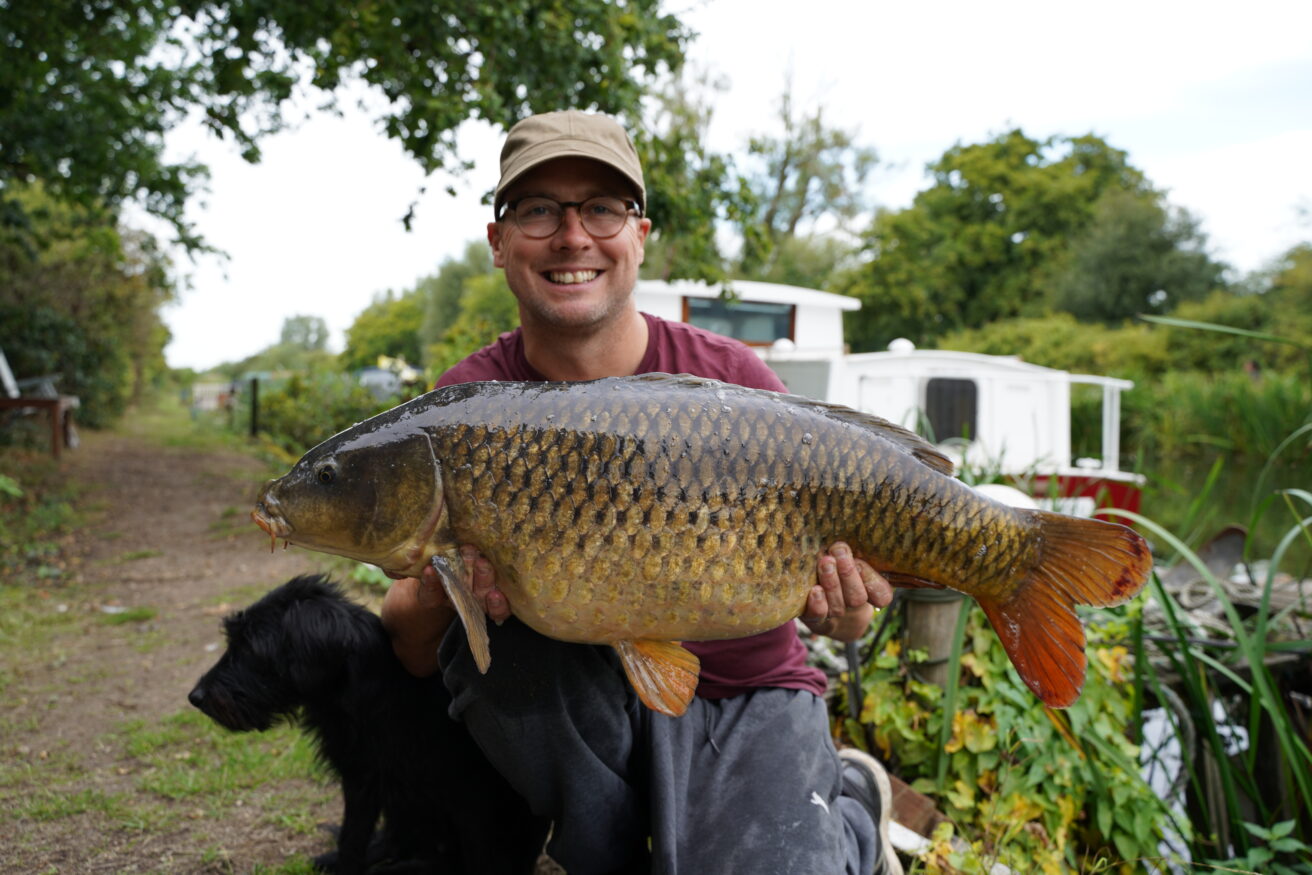 A place like no other...
Sea Legs
A few months ago I drove right across the width of the country to see Finn Lewis and his sidekick Dorris the carp dog. If you've watched any of Finn's Cypography stuff you'll know him as the WILDMAN.
Finn grew up around water having followed in the footsteps of his late father, so it's no surprise that he now owns a boat on a little canal near the sea. This little stretch of water is unique to say the least, just a few lock gates away you have salty water and on occasions the sea lions have even been known to pop up in the canal, right next to the resident narrow boats!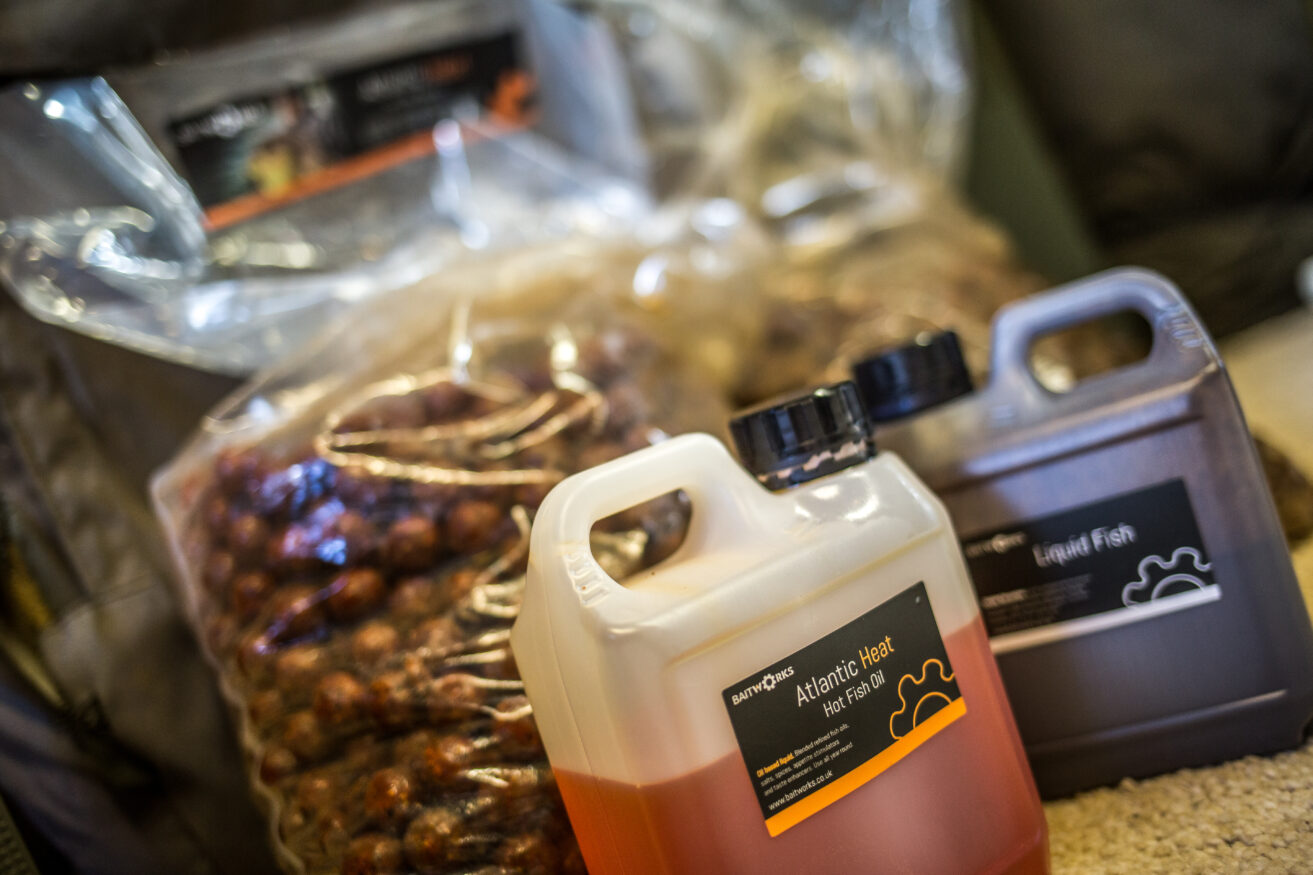 Free Food
The Prep Game
The canal in question holds are variety of species as you'd expect and Finn fishes for them all throughout the seasons but I headed up in search of a canal carp or two. Not knowing what the canal held had it's own appeal, carp with no names, almost less documented certainly added to this adventure.
Now a few weeks prior to the trip I sent Finn some boilies to pre bait a few spots with, the power of a little bit of prep is never wasted. The plan was to feed a few areas everyday for a few weeks in hope of holding a few of these nomadic carp in the areas we intended to fish. Plenty of free food was the plan before dropping onto the areas for a single night.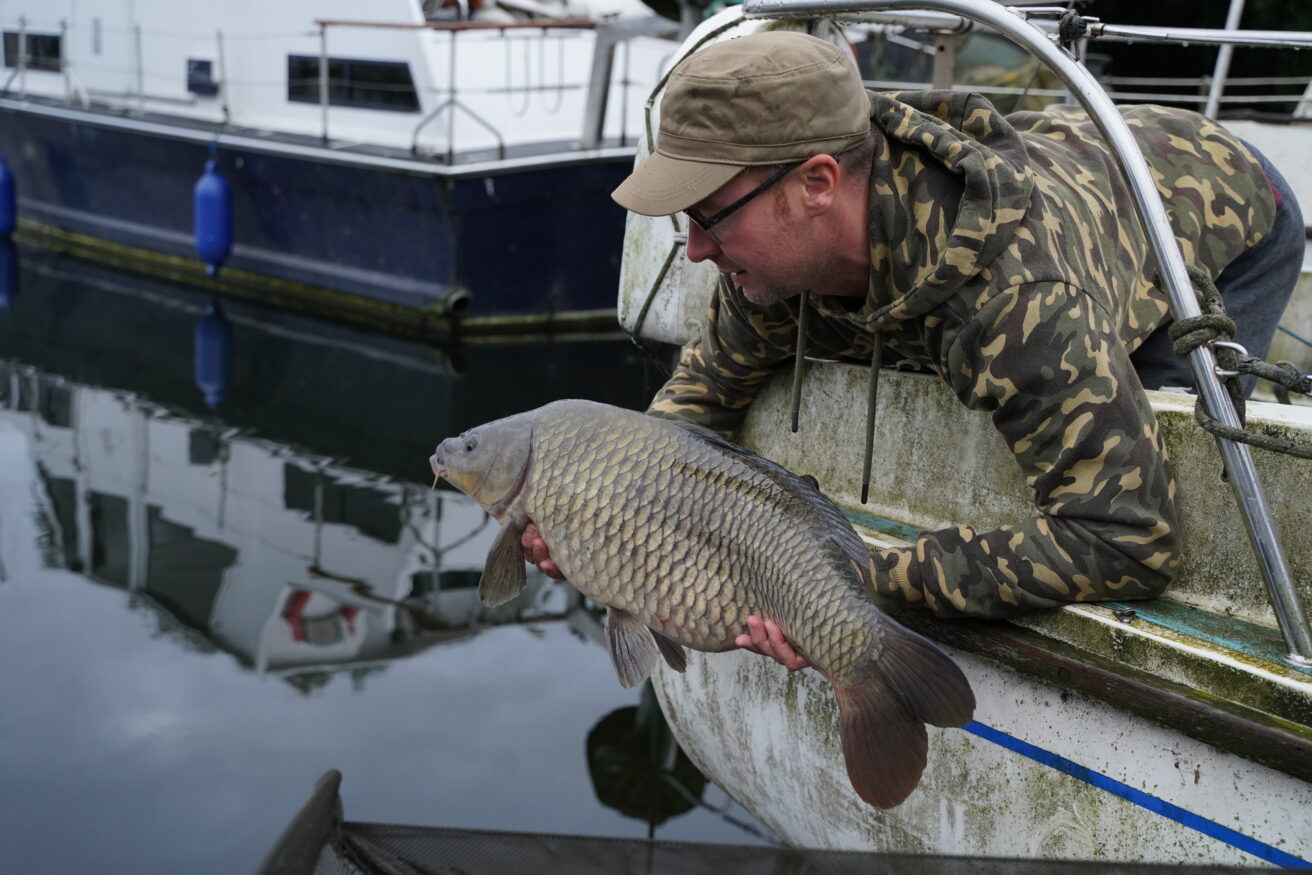 What a trip....
Action Stations
Having met Finn at 9am we loaded his river cruiser with all the bits I needed for the next 24 hours before Finn headed off down river to a little secluded spot between some dense lily pads. A few rigs were lowered off the tip and we sat back to take in the hustle and bustle of Canal life.
Well that relaxed ambiance didn't last long as we were thrust into action by the sound of the MX screaming for it's life. The next ten minutes produced a tense battle and one that nearly ended in disaster when a little boat came racing through the swim and nearly cut me off mid fight. Fortunately Finn's quick thinking prevented a disaster and I netted my first fish of the trip, a lovely 23lb common.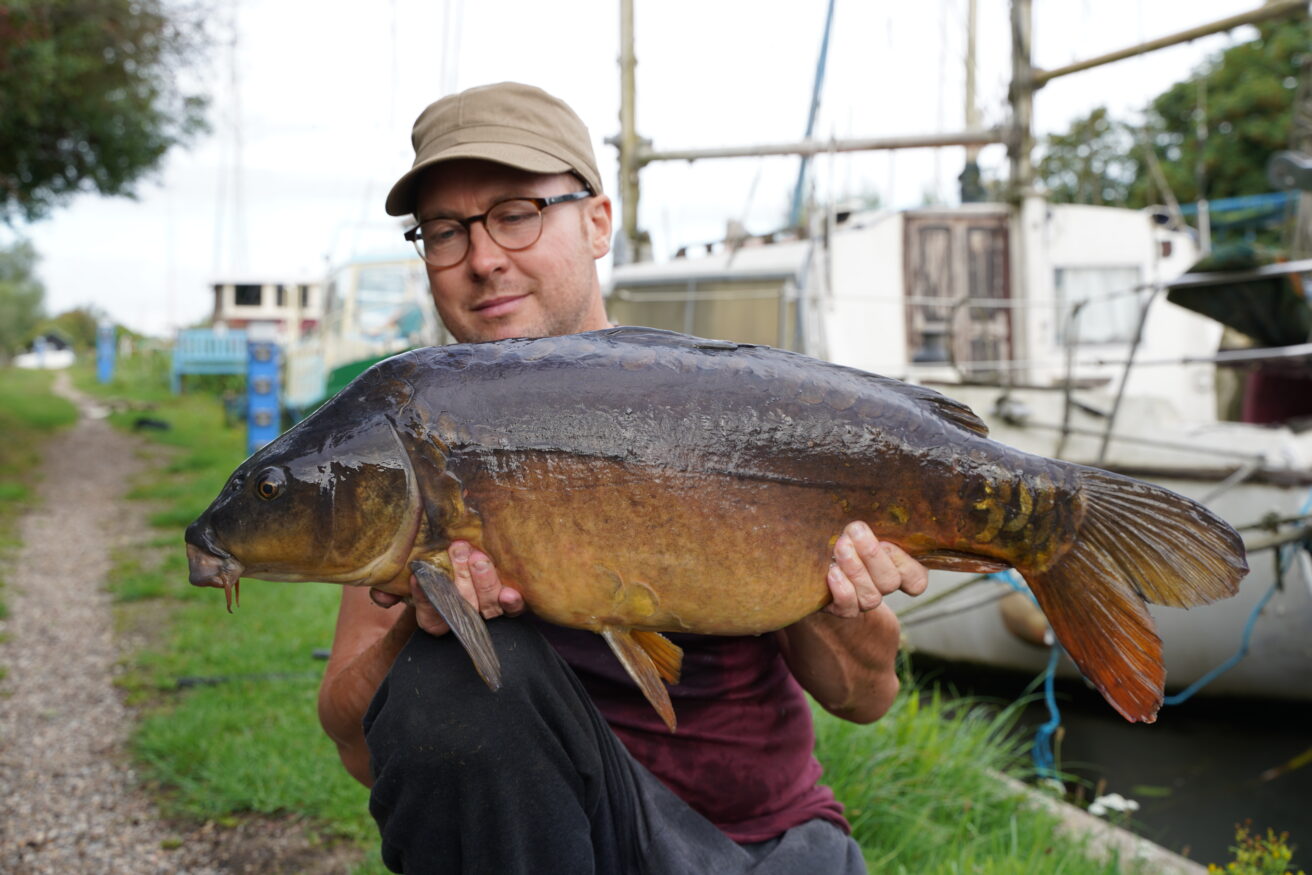 The start of something special
No sleep allowed....
After slipping that one back we wrapped the rods up, loaded the boat before heading back up river to secure the river cruiser for the night ahead. Now having a boat and private moorings on this canal has a huge advantage as most of the areas we fished are not accessible to bank anglers so the odds were stacked in my favour and I felt extremely confident about the night ahead. First though we headed to the pub at the mouth of the lock gates for a well deserved cold cider before discussing the plans for the hours of darkness.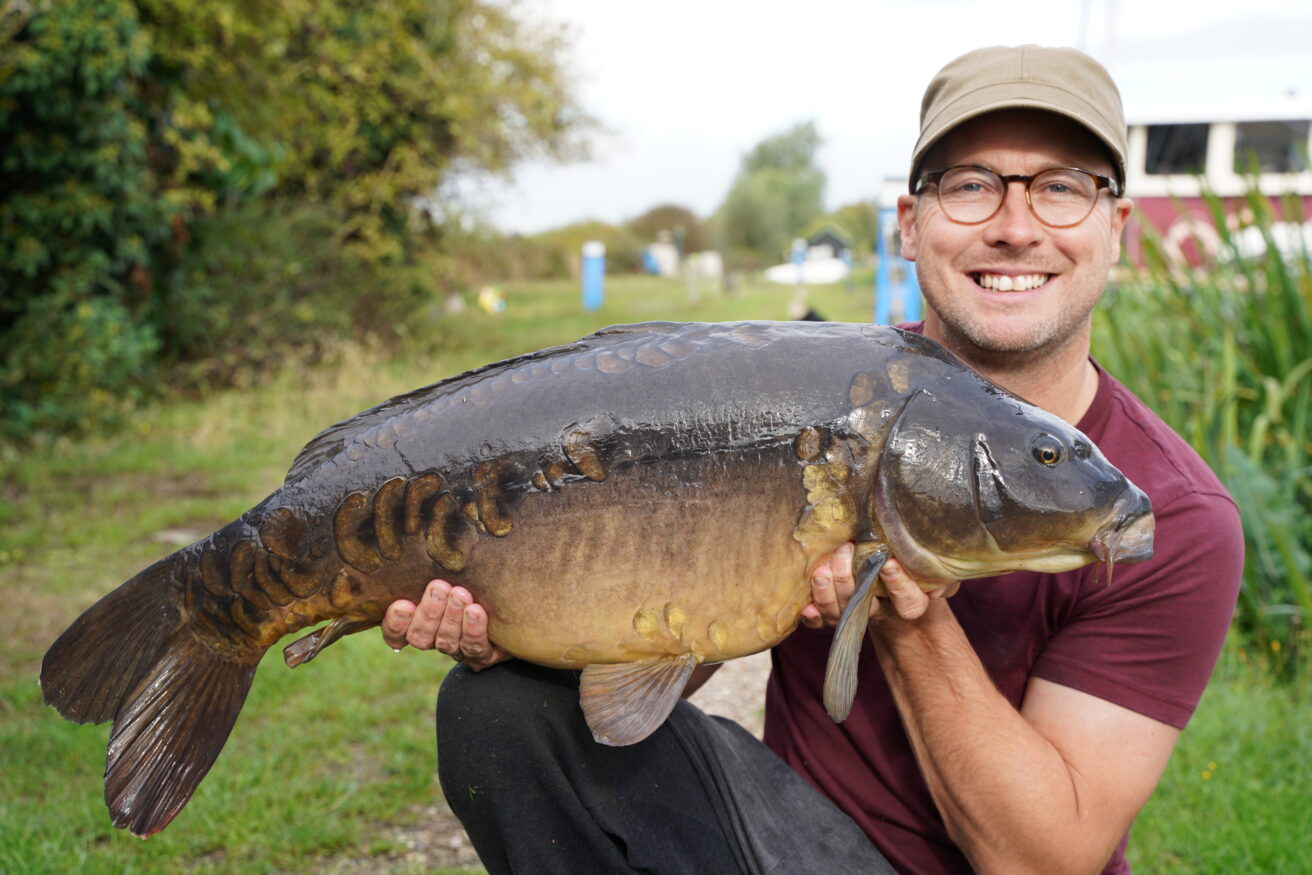 Some incredible carp
All shapes and sizes
Having got back onto the boat, a few fresh rigs were tied before flicking them onto a area that had seen plenty of free food for a good few weeks. The weather took a turn for the worse at this stage with the gentle rain turning into a torrential storm. However Finn soon pulled a big canvas cover over the back of the boat the rods had just enough space to poke through a small gap.
Well they didn't really stay in that state for long as the action in the hours of darkness became frantic, far exceeding my expectations and by first light I'd landed another nine twenties from this tiny little canal. Each one different to the last but they were all hard fighting carp that tore off round the boats at lightening speed!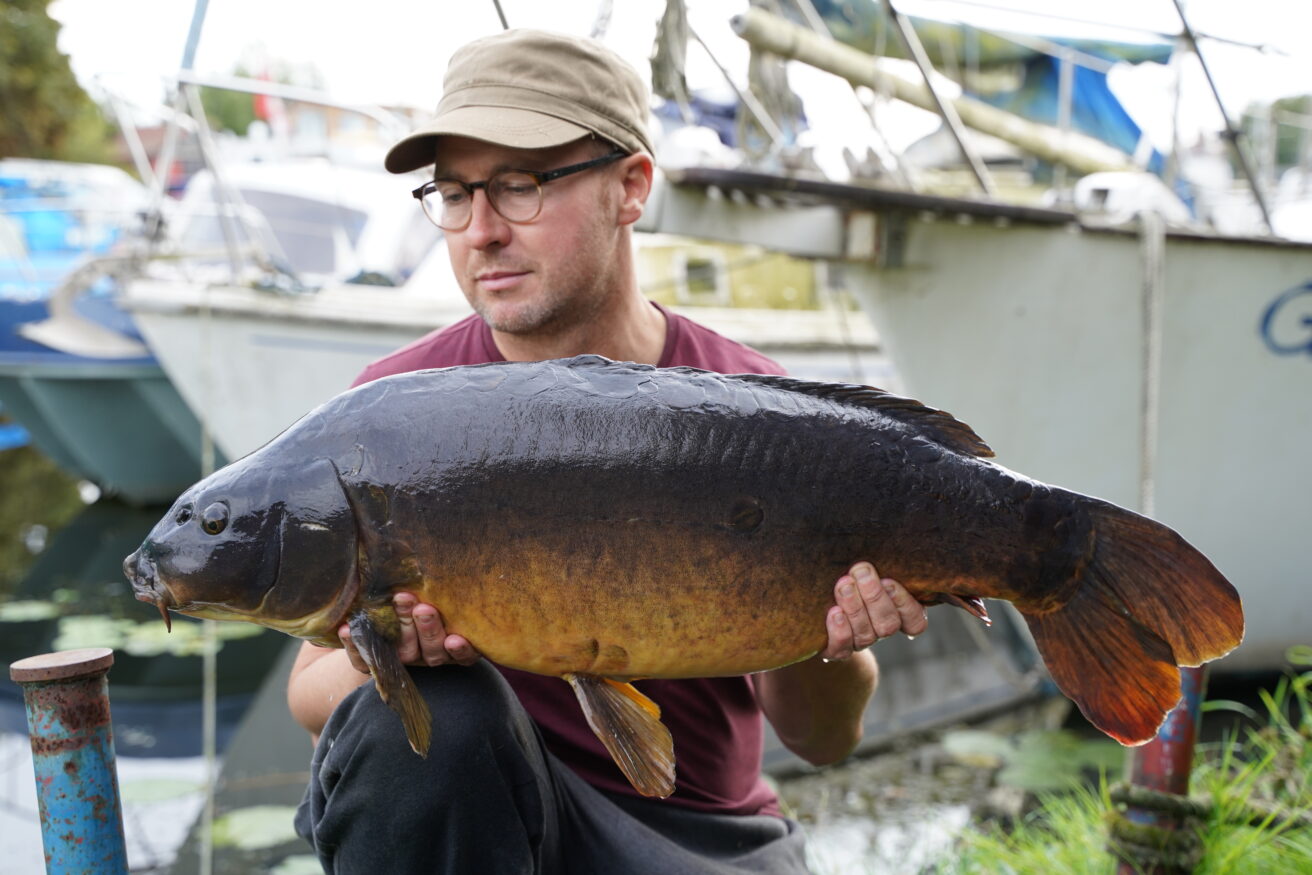 Strong Coffees...
Long Drive Home
With the photos all done me and Finn wrapped up the kit and headed for dry land. In fact we headed to a little cafe just across the other side of the canal for a well deserved breakfast bap and a slice of cake!
As the winter's now setting in I'm writing this with a huge smile on my face. This was one of my favourite trips of 2022 and it's all down to Finn, his boat and his excellent guiding knowledge of the waterways.
If you fancy a trip on Finn's boat in search of a canal carp, winter pike, summer chub or Autumnal perch then hit him up as he offers excellent guiding packages.
You can find Finn on Instagram under @fishtailfinnadventures and he offers both single or double rates if you'd like to take a friend.
Like everything in angling, catching is not guaranteed but one thing that I can promise is you'll have a wonderful adventure with a guy who's passion for angling runs deep!
As well as this little write up we did record a blog on our YouTube channel if you fancy an insight in video form. Tight lines Mike.
Previous image

Next image