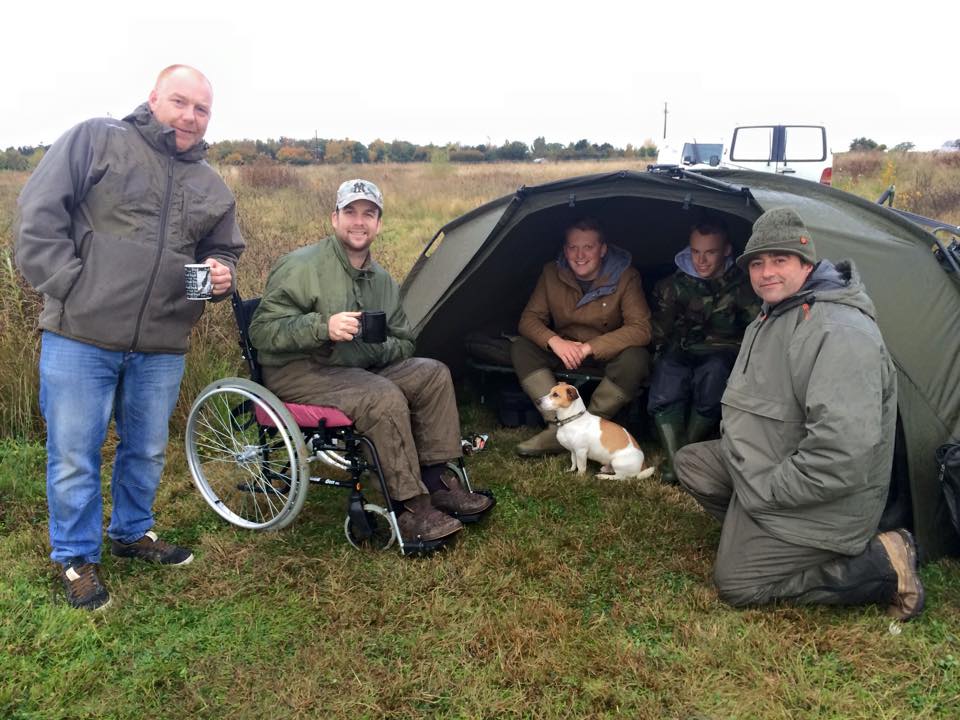 Two years ago, Mark Bryant lost a colossal carp from Gigantica, very possibly its biggest carp, Fudgies.
One year ago, he was being wheeled out of hospital, unable yet to walk, after being involved in a shocking car crash.
This year, upon his return to the lake, things were set to be very different!
"When thinking about heading back to Gigantica, that loss is never far from my mind, " Mark told us. "I'd played the fish in, and got a really good look at it before it came off at the net. The sheer width and bulk were incredible. I know that you can never be sure… but I was convinced I'd lost the biggest carp in the lake and I never thought I'd get that chance again."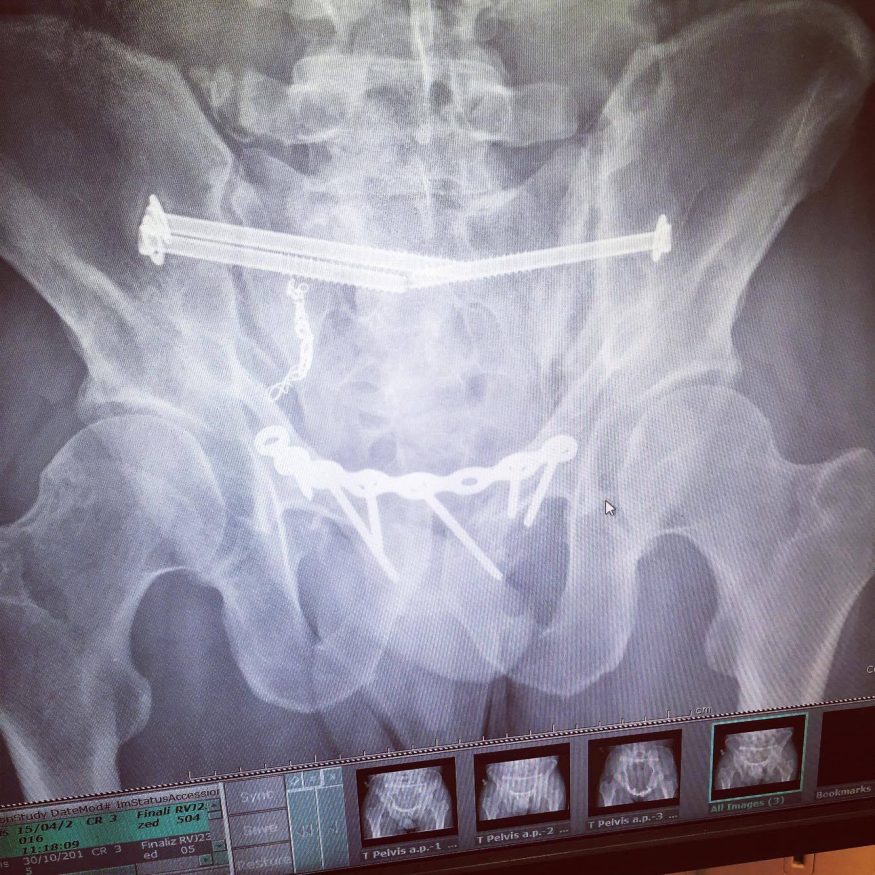 The accident also played on my mind. Would my body stand up to six nights on a bedchair? Would I be able to spod at range for a week? I'd only done the odd overnighter since the crash and, even though the Trakker ELS (Extra Lumbar Support) bedchair made things better, I was quite concerned. Despite the concerns, I was excited too. A year previously, I couldn't even walk, so to have a week's fishing in front of me was a real treat.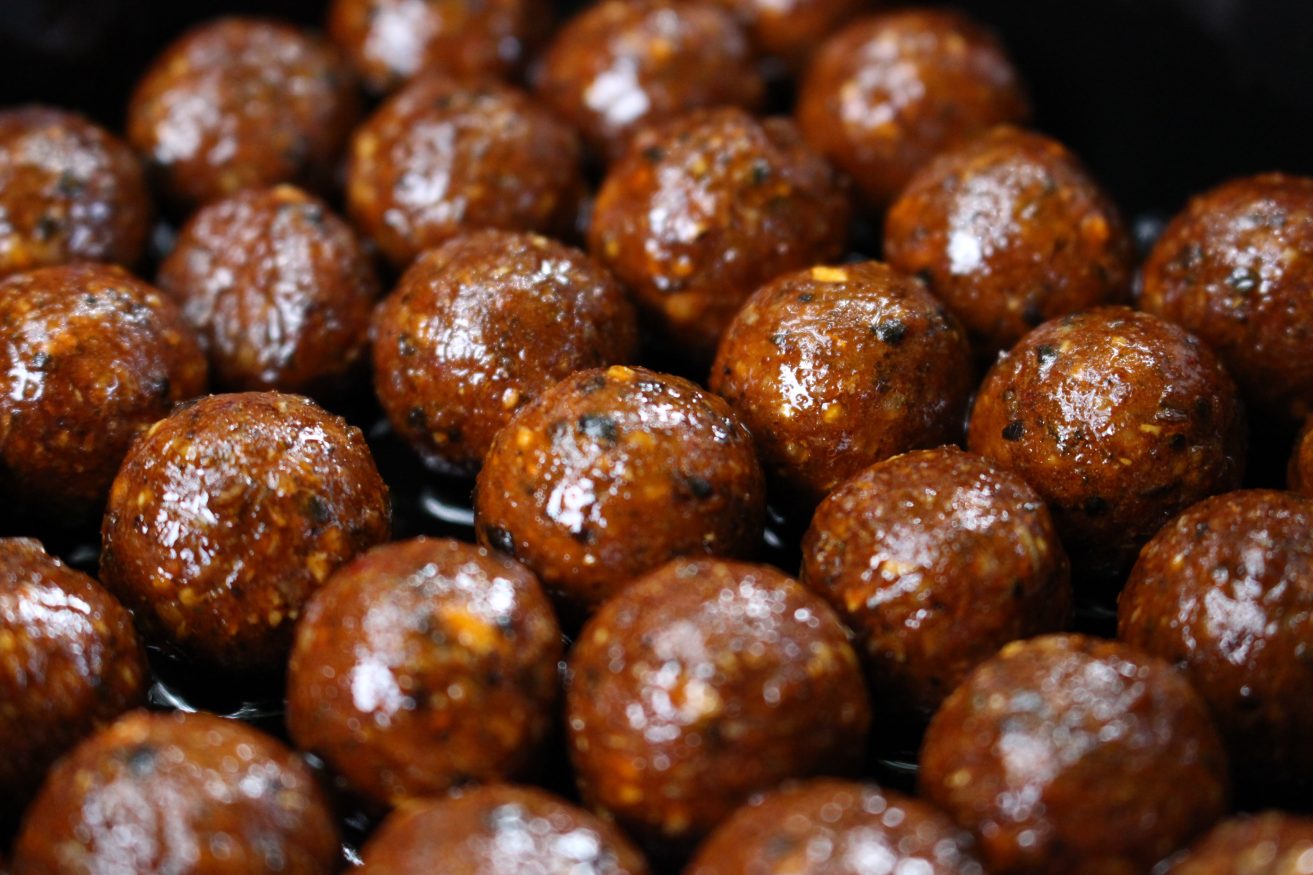 The lake looked stunning as we did the walk-around with the bailiffs, it was like nobody had fished it for ages, even though we knew that the lads from the previous trip had only just left! It was noticeable that the mood, which was buoyant as we walked round, became much more serious on the last 200 yards before the lodge. Everyone fell silent, thinking hard about their swim choices!
You're always hoping for good draw, so I couldn't believe it when I pulled ball no2 from the hat! Now, you can never say anything for sure in angling, but I felt like I was in with a great chance of some action. Rather than rub people's noses in it, I quietly shuffled off to the toilet before I screamed with joy, or perhaps pent-up frustration, after a year of restricted fishing!
Jake Taylor came out first and he plumped for Alamo, which gave him access to the middle area of the lake and would allow him to fish at range, which he's proficient at. That left Co's Point open for me. Co's is the royal box of the lake; you can see the whole lake from there and it's an amazing place to spend a week's fishing, regardless of action.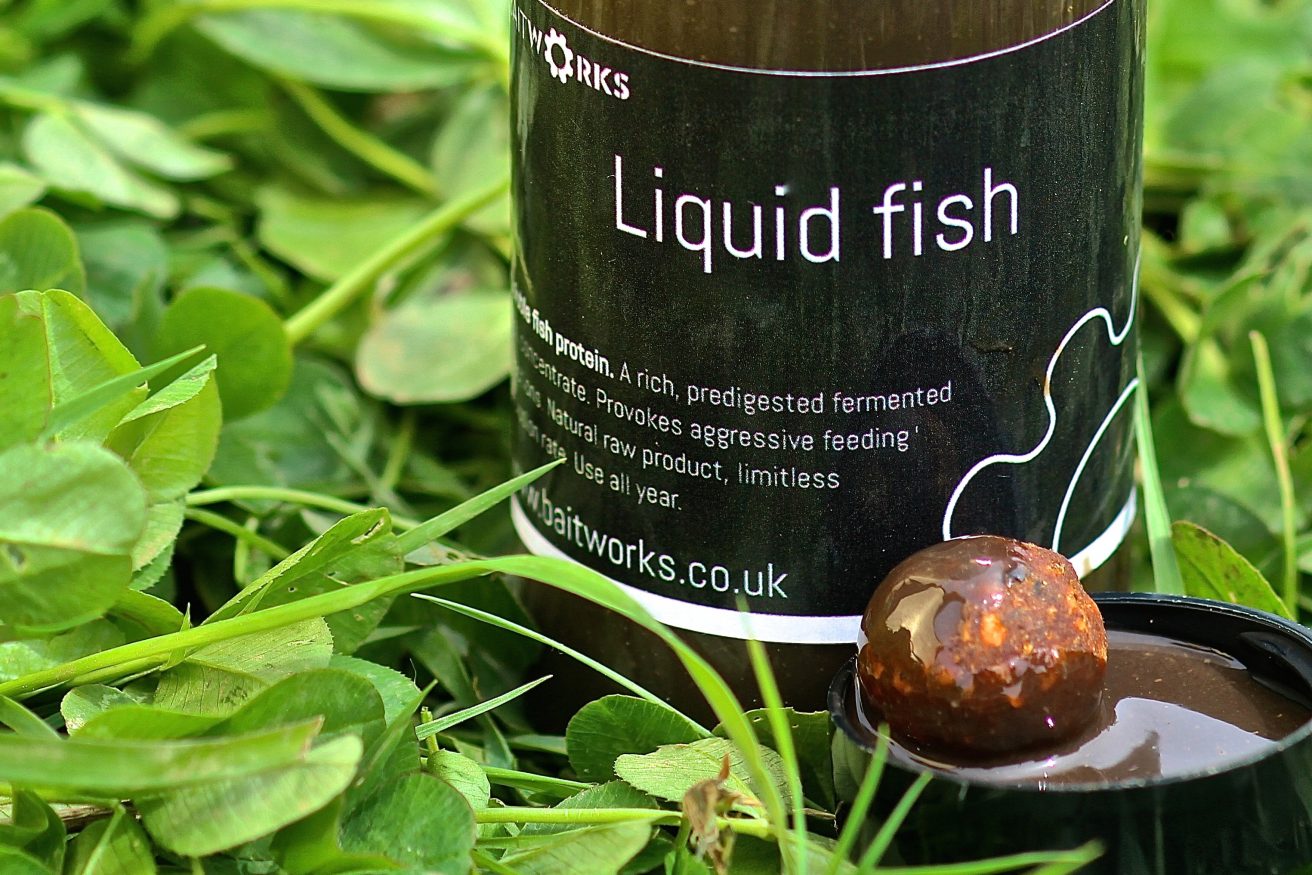 The biggest question I had about Co's was whether to fish known areas, or try to find new ones. My mind was made up for me though, pretty soon after getting into the swim. As I was putting the bivvy up fish were crashing at around 100-120 yards (a known area), so last thing I wanted to do was crash a lead all over the swim, in search of a spot that may well not be as good. Instead, I found the very hardest bottom I could, at 27.5 wraps, and made a big decision about my baiting tactics.
I felt that there was likely to be very little bait out there, especially because people don't tend to stove it in on their last night. I was there for the week and knew the carp would come over me at some point, so I wanted to give the pack a reason to come back every night. By putting in 15 kilos of Royal Marine boilies and maize all soaked in our Liquid fish protein, I hoped that the fish would return to the area regularly – it may sound cavalier, but I was confident it'd work. I reasoned that the carp would be wary while feeding on pressured areas, and would be aware that there would be rigs around, so going in heavy might tip the balance in my favour and greed would overcome their caution. To my mind, when that pack descends, it doesn't matter if there's five kilos or 25 kilos, you won't hold them. So, out went a mix of Royal Marine and maize: I was in for a penny, in for 15 kilos!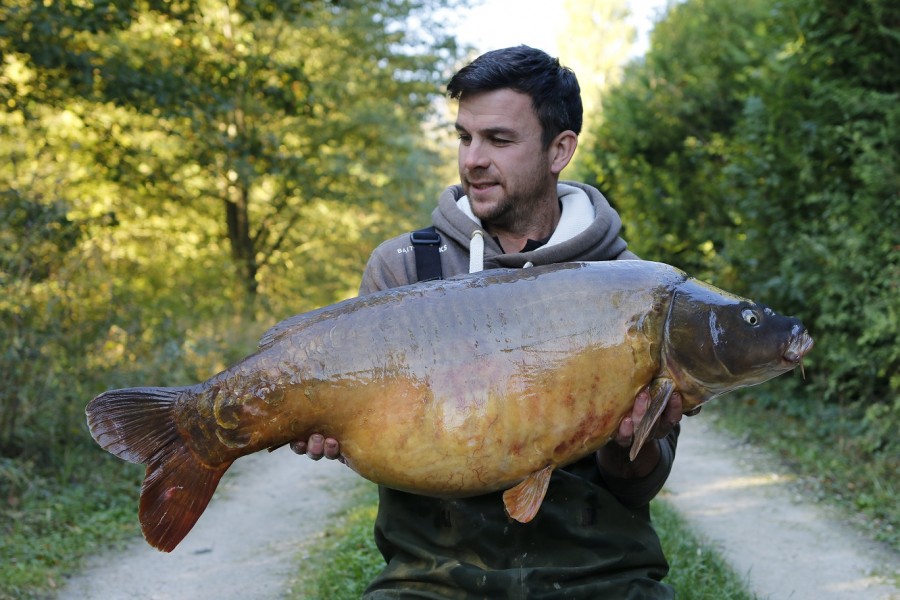 I set up my rods with Tapered SUBline, naked Chod Safety Systems, down to Helisafe Beads and QC Ring Swivels which allowed me to quickly change rigs, which were my favourite loop combi rigs. I made these from 20lb IQ booms and 25lb Supernatural loops, attached to size-two Kurv Shank hooks, which had small pieces of silicone sleeved over the eyes. The rigs were baited with 18mm hardened Royal Marine hook baits, which I drilled out and popped a small dumbbell Hell pop-up into, so that it just poked out, giving the bait a fleck of colour and buoyancy.
I was away that night with a cracking 40lb 3oz fish, which just served to make me really confident in putting that much bait out. Catching that quickly over 15kg confirmed that they'd clear whatever I put down there. On the Sunday the fish moved off me and in front of Alamo and The Beach, so I slowed the baiting down a touch, introducing 5-10 kilos instead of 15.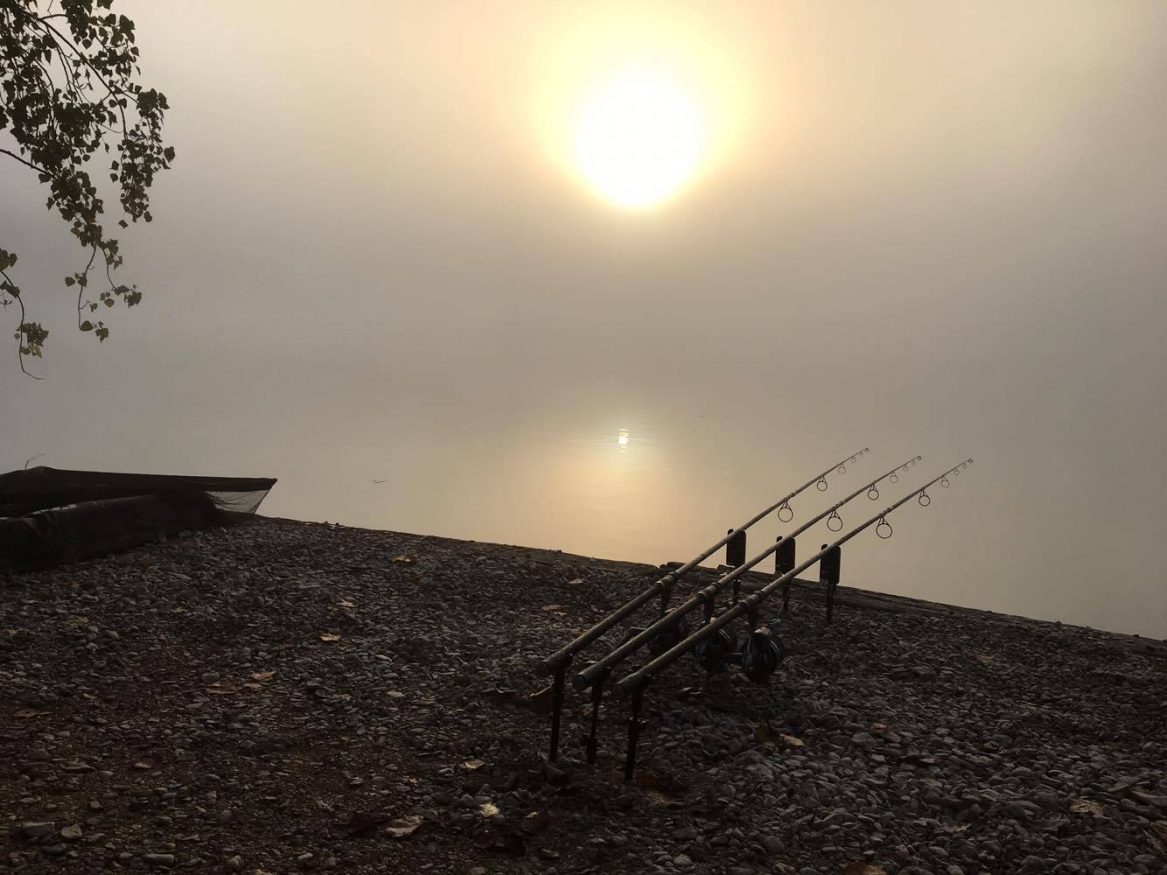 I spent a couple of nights without action, but the best was yet to come! I put rods out just on dark and then put in a big hit of Royal Marine 18mm boilies (15 kg) again all soaked up in the liquid fish. A single bleep alerted me to some action and when I got to the rod, I could tell that a fish had picked the bait up and kited to the right. At first, I wasn't convinced that it was even a carp, until I'd seen just how much it had kited.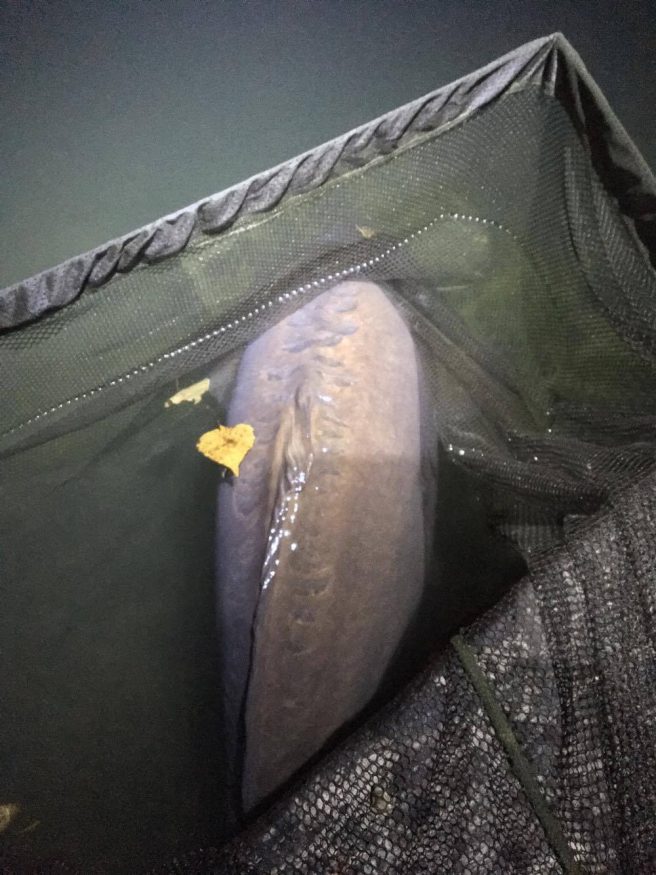 The rod was compressed like my rig was weeded, but it was kiting right all the time, so I knew that something was on the other end! What I didn't know, was that it had ditched the lead and come up in the water, which was exactly what I wanted the Heli-Safe to do for me. I was still partly convinced that I was attached to a weed bed, but then every now and again the rod would nod really slowly. I flicked my head torch on and could see to about 30 yards. Gigantica bailiff, Steve Rocke, had joined me by now and he had a much more powerful torch that we could use to get a fix on exactly what was going on out there. In the strong beam from Steve's torch, we saw this big, white ghost coming towards us at about 60 yards…
It was amazing; the fish's head was kissing the surface and its shoulders were sticking 4-5 inches above it. "Oh my God!" Steve said, "Did you see that? Did you see that?" "Yeah," I replied, "It's a good 'un". "A good 'un?" He snorted, "That's colossal!"
At that point, my knees went. With the headtorch on it, I swear that the fish was dazzled like a rabbit in the headlights, and it came straight in, just like it had two years before. I'd lost it last time after reaching down to grab the net, taking the beam off it, which allowed it to revive and charge down the slope. With that in mind, when Steve asked whether I wanted him to switch his torch off, I said, "No, no, keep it on the fish." I gently walked back up the swim and Steve needed two attempts to net it, due to the incredible depth of its belly. He managed to do it though, and I went running forward and clambered round to get a look at it. Bizarrely, I took my size-10 shoe off and held it over its back – the fish was wider than the shoe was long! We must have been making a bit of noise, because pretty soon we could see a parade of lights snaking their way towards us.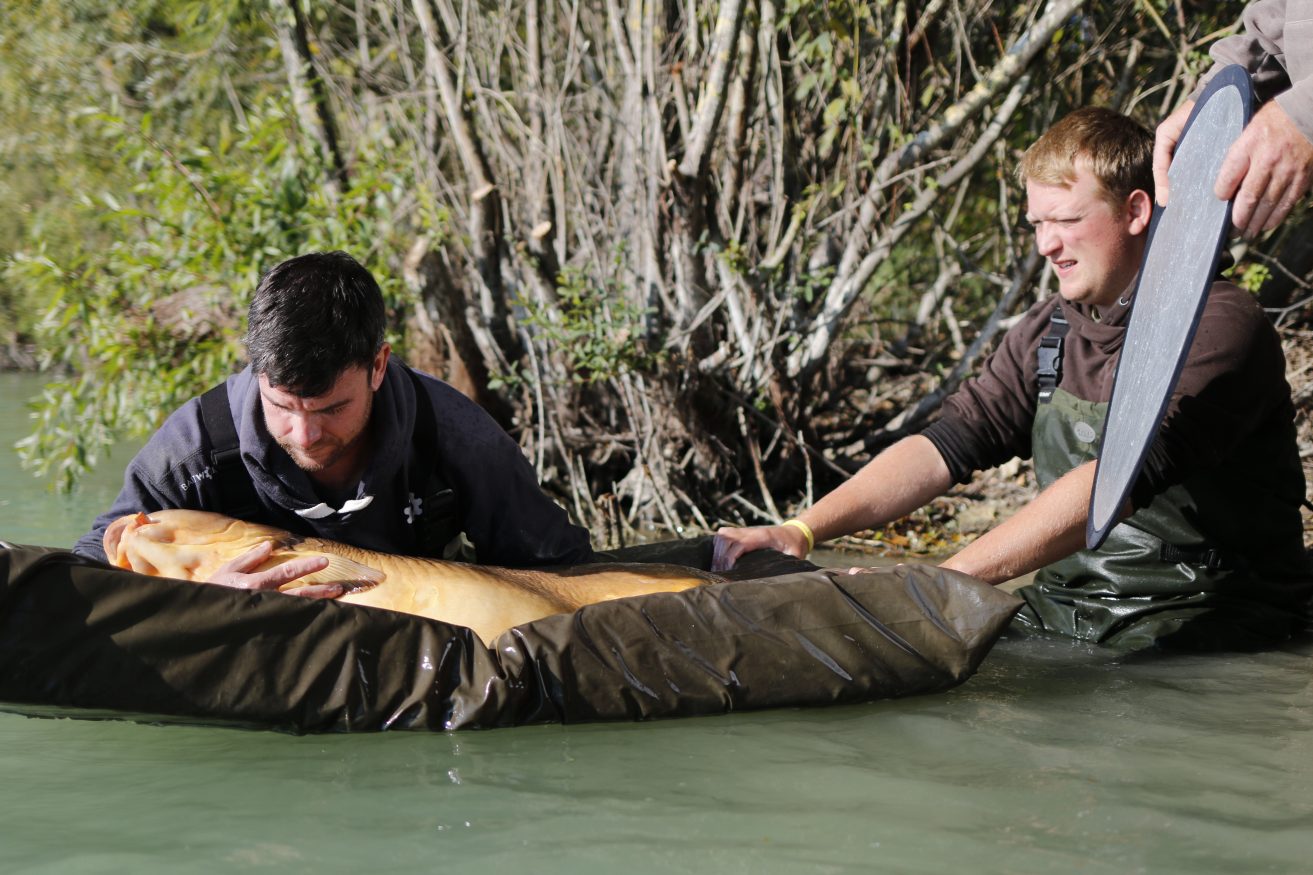 Ten grown men turned up in my swim and there was high-fiving and hugging! After a few minutes, Steve and Dan confirmed that it was Fudgies, my nemesis! I must admit that I was a bit scared when I looked in the net. I can only liken it to when you land your first bigger fish as a kid. My next thought was, "How the hell am I going to lift that?" I actually became very concerned that I wouldn't be able to do it justice. 
I stood back like a spectator as the weighing and stuff was taken care of for me – what an amazing memory to share with the other guys. The great fished weighed in at 85lb 8oz – 85lb 8oz!!!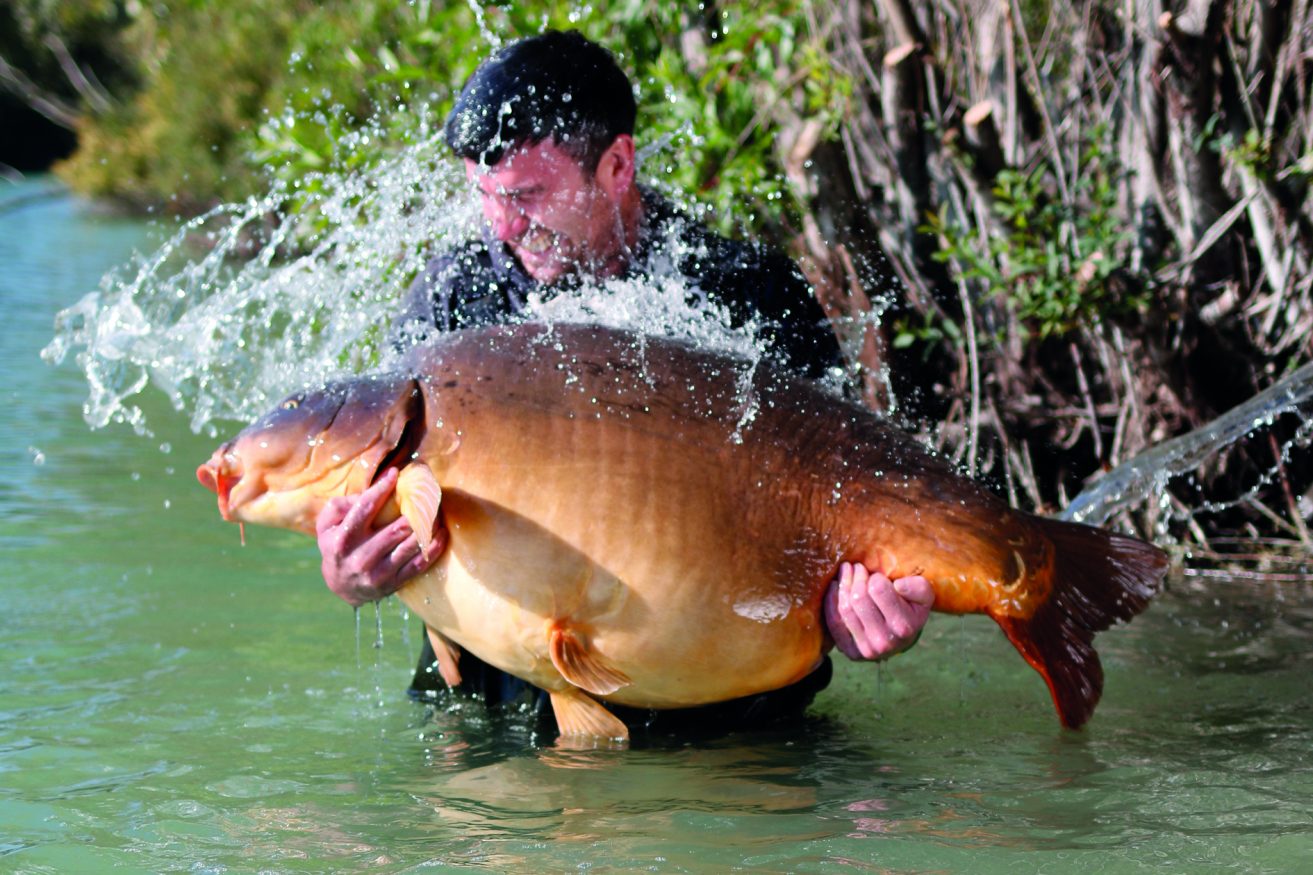 By the time it was light enough to do the pics I'd really built the nerves up, which was good because my adrenalin was pumping and I hoped it'd help me hold the fish for longer. All the shots were to be done in the water, which is great for fish safety, but meant a problem for my back as I'd have be standing up the whole time. Luckily, the bailiffs had a weightlifting belt, which helped me massively because my core and lower back were supported. Because of its insane width, a fish like Fudgies takes up the whole of your forearm and so you need to lift up almost 90 degrees. With a crowd of 15 people, I was able to hold it just long enough so we could rattle off the pics!
I suffered for my efforts once the adrenalin had left my system; a day later, my back was killing and I discovered that I'd ripped some of the small muscles in my bicep! It all meant that I struggled to spod and cast, but did I care? Not a jot! I was so blown away by the experience that it really didn't matter!
Previous image

Next image